Written by Hassan Khan
If you are looking for an unforgettable experience in Canada, be sure to head to the wonderful city of Vancouver, a place known for its endless number of activities and experiences. Have a look at the beautiful legacy and symbols of this city that defines this place for what it truly is!
From tree-top walking on the mountains to the enormous parks and the narrow bridges, each place will provide you with a unique experience! Vancouver is a popular sightseeing location, enveloped by scenic mountains, and has epic art galleries, theatres and unique gift shops! The countless places to see in Vancouver provide a unique experience to all its visitors. Don't know where to start? Be sure to keep on reading to uncover some of the best places to experience in Vancouver!
Capilano Suspension Bridge
This Vancouver's foremost tourist attraction opened in 1889. Since then, it has been open for guests and tourists with its rocking bridge over a beautiful view filled with a load of attractions and epic experiences. The unique bridge is 137 m (450 ft) long and expands over a 70m (230 ft) plunging river directing to an exciting park filled with unique activities, epic pathways, and a tree-top walk. There's also a collection of ancient totem poles. We recommend booking the Grouse Mountain & Capilano Suspension Bridge Private Tour tour and leaving the rest to your tour guide.  Your guide will make sure you get to see the best of sights that this place has to offer, giving you and your loved ones a unique experience like never before.
Grouse Mountain
With so much to experience, Grouse Mountain is over 2,000 feet high and is one of the most epic areas in Vancouver! Whatever the season may be, Grouse Mountain provides an unparalleled sight in a clear climate. The mountain is primarily a ski resort with a beautiful panoramic view, and an epic zip-lining area. It's a place that has a wide range of epic activities, undoubtedly providing an unforgettable experience for anyone who goes up there! A traditional, flat-bottomed Venetian rowing boat, known as a gondola, runs every day from the streets to the peak, where nature and beautiful wildlife are waiting for the mountaintop adventurers. In the Summer, visitors will also get to see a bird show, the lumberjack show and the brown grizzly bears. Not to mention, in the wintertime, Grouse Mountain offers specific outdoor activities, including skating, skiing, snowboarding and more. Book a private tour with us to make sure you don't miss out on anything Grouse Mountain has to offer.
Granville Island
Next on the list is Granville Island! Granville Island is considered dear to the locals and is also a massive attraction for tourists. Granville Island is an indoor market filled with various fruit, vegetables, seafood, flowers, art galleries and so much more. The Granville Island indoor Market is a centre of activity, but it's also one of the city's most significant cultural districts with theatres, craft and art workshops and studios. One of the most epic ways to get to Granville Island is on one of the mini-tugboat ferries, they're loved by everyone and will truly uplift your entire experience! When you arrive, the best attraction on Granville Island is the Public Market. Situated indoors, there are ongoing rows of booths and vendors that have fresh fruits and vegetables, gourmet foods, baked sweets, and much more. If you're confused where to start, a walking tour of the market can be an epic way to have an insightful experience. Explore Granville Island in a fun way and uncover its new side as you work to solve a series of clues & puzzles in this Vancouver Clue Solving Adventure – Islands & Bridges.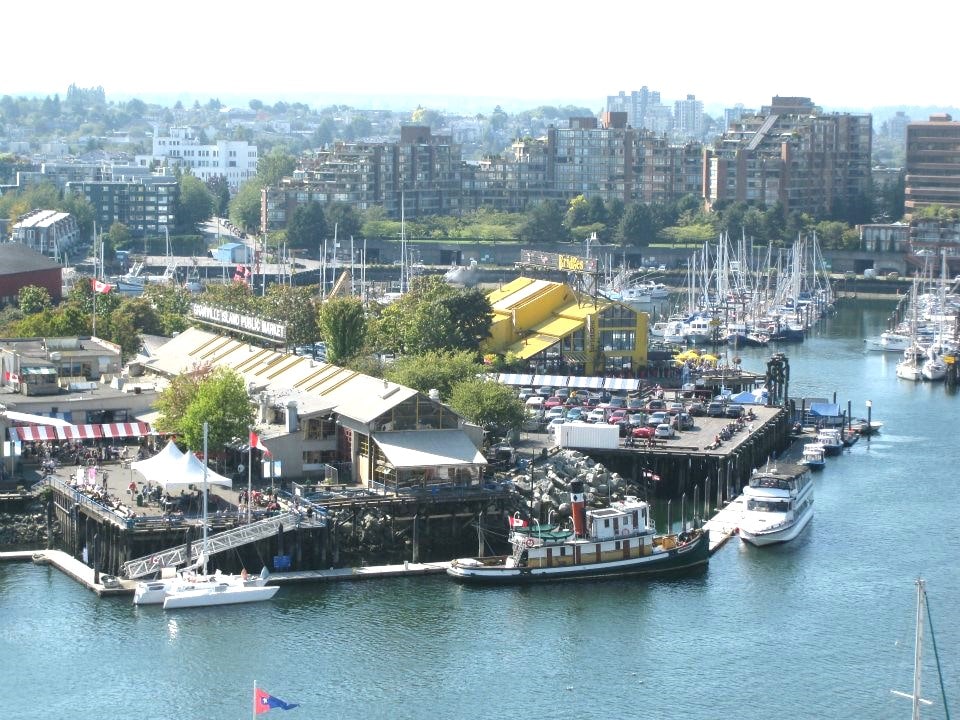 Stanley Park
Stanley Park is one of the city's most epic locations, drawing about 8 million visitors every year. Stanley Park is a massive park that was created in 1888 and is right next to the waterfront. It's the perfect family fun destination, there are so many things to experience. This park is bigger than Central Park and three times bigger than Hyde Park! They have a playground, a waterpark, a golf course, beaches and an aquarium! If you want to go bike riding, you can rent a bike from Spokes Bike Rentals nearby. It also consists of various unique places to buy gifts and souvenirs. For these reasons and more, this abode will provide you with the most peaceful experience. With so much to experience, make the best out of your stay! You have the option to explore the park with a guided tour or unveil its beauties on your own.
Gastown
Next on the list is the most ancient part of Vancouver, popularly known as Gastown. A place with a slightly odd name but an intriguing story. Gastown was first introduced in 1867 when a man known as John Deighton reached the area. John was commonly referred to as "Gassy Jack". And because of this, the area started to be referred as "Gastown." Gastown is a unique district consisting of restaurants, museums, and markets located in deliberately revitalized Victorian buildings. Heritage establishments, rounded streets, and vintage lampposts give the neighbourhood its unique ambiance. It is also a very great place for gift shopping, and they have some of the best and fanciest restaurants in this district, providing you with the most epic experience! While visiting the Gastown neighborhood check out this Vancouver Murder Mystery Game and become a detective for a day, and solve the mystery.
Chinatown
Last on the list is a vibrant and historic town known as Chinatown, an area that was founded over 100 years ago! Chinatown is known for its lively food atmosphere, which consists of traditional Asian bakeries, and restaurants, some of which are accompanied by beautiful gardens. It's also another epic place for gift shopping! Posters and signs at the stores and restaurants are mostly written in Chinese characters, especially along the main shopping areas. Some popular attractions include the Dr. Sun Yat-Sen Classical Chinese Garden, created after a traditional garden. Though there are numerous traditional discoveries in Chinatown, you'll also come across a range of modern stores because of some youthful entrepreneurs who established shops in the area.
This list only scratched the surface of some of the most epic experiences to enjoy in Vancouver! We have a lot more in store for you! Be sure to check out our experience catalog to make the best of your trip to Vancouver. We guarantee it will uplift your entire experience!