Hike on steel walkways built into the canyon walls that give an airy view of the canyon below. Travel through prime wildlife habitat on your way to the trailhead and learn the clues to how Johnston Canyon was formed. Walk through a natural cave feature for a unique view of the lower falls. Gigantic pillars of ice are the highlight of the tour. Ice climbers can often be seen scaling the frozen columns. This popular walk will lead you past the lower falls and to the breathtaking upper icefalls.
Choose between a daytime (AM) and evening (PM) Icewalk. In the evening tour you will be using powerful flashlights to illuminate your walk in the Canyon.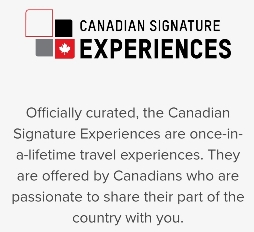 Walking time:
4 hours for a daytime tour
2 – 2.5 hours for an evening tour.
Minimum age for this tour is 8 years.
Your tour includes:
– Certified guide
– Ice cleats and hiking poles
– Hot chocolate and maple cookie snack
– Hotel pick up and drop off in Banff
– Complimentary souvenir headlamp (valued at $15.00) for Evening Tour participants.
Remember to bring: warm clothes, including hats, gloves and warm boots. Ski wear is strongly recommended for this tour.
Tour departure: 8.30 am and 1. 30 pm daily for AM tour;
6.30 pm for PM tour available Tuesday, Thursday, Friday, Saturday and Sunday.
Tour runs from December to middle of April.
Details on how to book this tour will be provided in your experience voucher.