Things to do in Banff in the Winter and Summer
You might heard about Banff town and the Banff National Park but if you have never been there yet and planning your getaway to this fantastic place we suggest you to read this article. This beautiful place is a popular destination among Canadian and tourists alike.
The town of Banff is located in the middle of the Canadian Rocky Mountains with an elevation of 1,383 meters (4537 ft), it is the highest town in Canada!
Banff, Alberta made the "Best of the World" list in 2017 named by National Geographic of must-see places to visit. Banff has been the only Canadian destination named on the list.
The outdoor lover can possibly think about any outdoor activity that can be found in Banff such as white water rafting, snow tubing, fishing, mountain climbing, skiing, hiking, and cycling—just to name a few.
When traveling through Banff National Park keep an eye out for the amazing wildlife found within the park; elk, deer, bighorn sheep, bears, wolves, coyotes, moose and mountain lions – all call this place home.
If you would like to join a guided wildlife tour you should check out this Banff Evening Wildlife Safari available in the spring and summertime.
On this wildlife-watching tour, there's no knowing what animals you might end up spotting. This is a bus tour, minimum walking is involved, so you can sit and relax and keep your eyes peeled for twilight wildlife encounters.
If you are into cycling, bringing a mountain bike with you would be a good idea. You will enjoy a few of the trails and picturistic views of Banff National Park.
Legacy Trail is a 26 km (16 miles) one-way paved path that will take you from the outskirts of Canmore into Banff. You will have multiple rest spots and picnic areas along the way.
Bow Valley Parkway provides a convenient and leisurely route between Banff and all the way to Lake Louise and is extremely popular with cyclists. The parkway is stretched for 48 km (29 miles) and it starts at Johnston Canyon day use area. Bicycles, e-bikes, and hikers are all welcome to take advantage of this.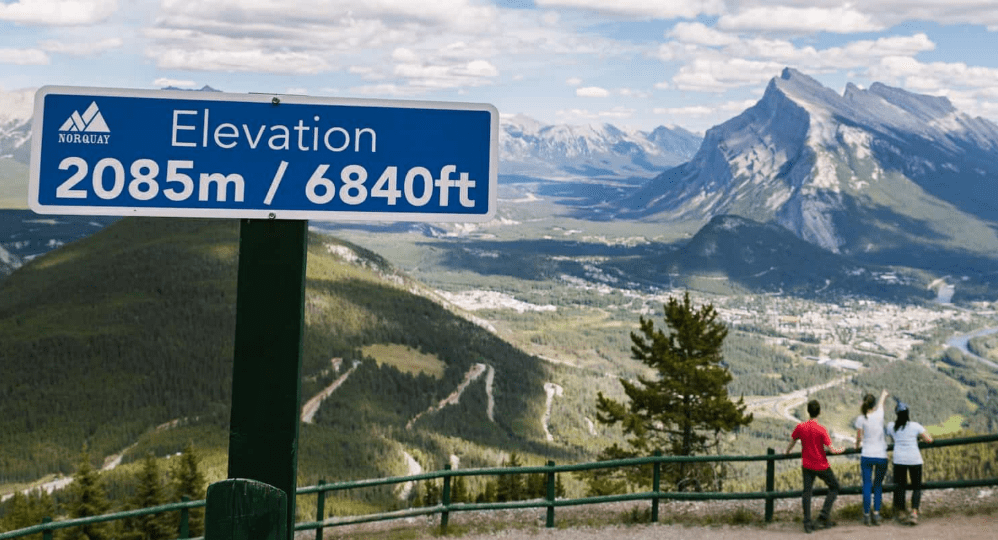 While traveling to Banff in the summertime, catch a view of the town and the Rocky Mountains that will take your breath away. See Banff town from the bird's eye on this Mount Norquay Sightseeing Chairlift. You will have the best seat in Banff National Park – and possibly the whole of Canada. More than just a chairlift ride, this is your gateway to an unforgettable, open-air journey into the sky.
Hiking is a very popular thing to do to explore Banff National Park. With hundreds of hiking trails available in the Rocky Mountains, how do you know which one to choose? You will need to research and find the trails that suit your physical fitness. However, if you want to eliminate the hassle of doing your own research you can join this Guided Signature Hikes Tour. This experience offers you a few trail routes that are designed for beginners and intermediate levels and lunch is also included.
Banff is also an outdoor adventure playground in winter and is very charming. It opens up new activities some of which are listed below.
Banff is a popular winter destination among ski and snowboard enthusiasts and many people are coming to the town to hit the slopes. Sunshine Village, Mount Norquay and Lake Louise are three world-class ski resorts in the area that you can choose from to enjoy these winter sports.

If you are planning to stay in town instead, bundle up and go on a Banff Clue Solving Adventure – Treasures of Banff. Solve the clues to find the treasure before it falls into someone else's hands. This is a scavenger hunt type activity that is great for the entire family.
Explore a winter wonderland on snowshoes. This is another unique winter activity that you can try.  Snowshoeing takes its roots in the early years and was a common form of transport, and probably of sport, among Indigenous peoples. Today, snowshoeing is a winter recreational pursuit of thousands of people.
Enjoy a Guided Snowshoe Tour and admire the dramatic colors of Marble Canyon. On this tour, you will see how the pounding and frozen waters of Tokumn Creek have eroded a 40-meter-deep limestone gorge.
Wrap up your trip to Banff with a famous horse-drawn Sleigh Ride. Relax and take in the breathtaking views and sparkling winter air of the Canadian Rocky Mountains. The sleigh ride will take you through the Bow River Valley showing you the remote areas around Banff, western style!
Wait, any trip to Banff won't be completed by taking a stroll on Banff Ave, the main street stretches through the middle of Banff town and is famous for its local shops and restaurants. Whenever you visit Banff and Rockie Mountains you will find fun activities suitable for each season.
For more fun and unique experiences and things to do in Banff check out here. For the entire list of gift ideas in Canada visit our website.