Have you ever imagined, how it would feel to be among 20,000 beautiful aquatic animals? Ripley's Aquarium offers exactly this wonderful experience with an aquarium with 5.7 million liters of water! If you are in Toronto, then this is an experience that you do not want to miss!
Ripley's Aquarium of Canada is a public aquarium in Toronto, Ontario, Canada. It is one of the largest and best of tourist attractions Toronto has to offer and is located right next to the CN Tower. It is the perfect experience for you and your loved ones, especially newcomers, families and children, and couples.
What better way to keep the children engaged than by taking them out on a trip to the Aquarium! The aquarium is open daily from 9:00 AM to 9:00 PM. During the summer and on weekends and holidays, the aquarium is busiest from 11:00 AM to 2:00 PM on weekdays, and busiest from 11:00 AM to 4:00 PM on weekends and holidays! In order to avoid the long lines and have a calmer experience, buy your tickets from online before going and avoid the busy times. So, plan accordingly in order to get the best experience at the aquarium and have the best view of everything. Make sure to also allocate a time range for yourself from about two to three hours to relish the whole experience appropriately. Before entering as you approach the aquarium, don't forget to catch the spectacular view of the CN tower!
Ripley's aquarium consists of two floors with ten amazing gallery presentations with various marine habitats. All together, these marines consist of over 5.7 million liters of water and contain a wide range of unique and mesmerizing fish species for you to look at. Thankfully, the tour and layout of the aquarium are adequately designed, so you would not have to worry as you take a tour through one mesmerizing and captivating display at a time. However, there are a few things that you must see in particular in order to have the most fulfilling experience there!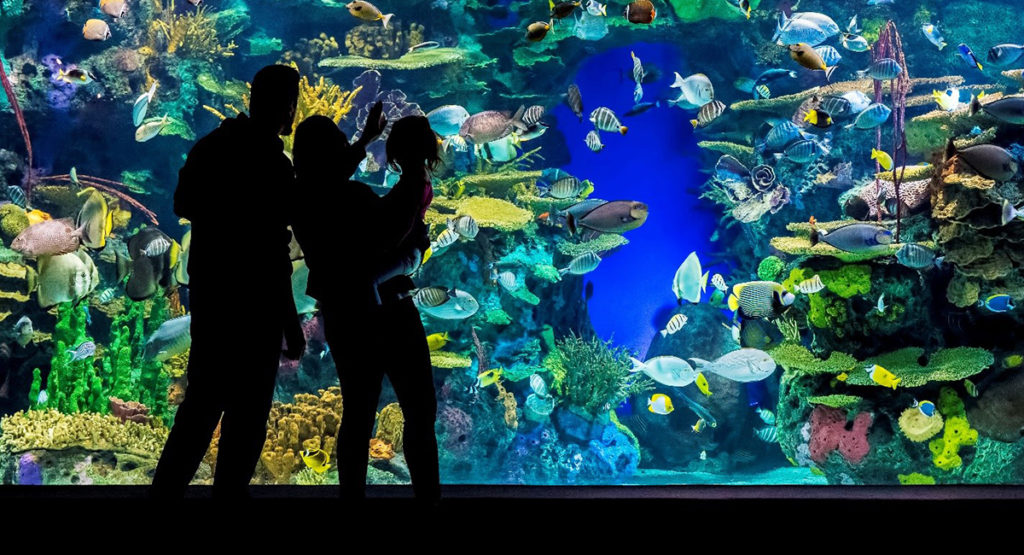 Get Lost in The Underwater World of the Dangerous Lagoon!
The Dangerous Lagoon is the largest display in the Aquarium. It consists of approximately half of the water in the entire Ripley's Aquarium, located on the upper floor of the aquarium. You wander through a captivating underwater tunnel where the fish swim all around you. The large tanks and large amounts of water make it an immaculate abode for the ferocious sharks, eels, and other species swimming around the tunnel tanks. On the left side of the tanks, there is an option to hop on a moving sidewalk to amp your experience at this part of the aquarium. Not to mention, visitors who enjoy the thrill and can swim, have the option to swim with sharks by joining the compelling and very exciting Discovery Dive!
Finding Nemo: A Fun Display for Kids!
At the halfway point, you'll have a chance to sit and relax for a bit at the cafeteria before you continue your journey into the water of wonders. Visitors are not permitted to bring food into the Aquarium itself, so you must be hungry by now with all that walking! This would be a great time to eat, have a drink, and let your kids enjoy the various children's games, tunnels and other displays that are all around the cafeteria. They'll have a chance to see Nemo and hundreds of others that look just like him!
A Night Under the Jellyfish
A night under the Stars or a Night Under the colour-changing Jellyfish?! After the halfway point at the cafeteria, you will encounter one of the best parts of the Aquarium thus far! A beautiful light show presented by the swaying jellyfish at Planet Jellies. This is one of the most extensive of its category in the whole world. You'll get to see the four species of jellies: Moon Jellies, Cannonball Jellies, Pacific Sea Nettles, and Upside-down Jellies! The Life Cycles Exhibit presents the moon jellies throughout all the different phases of their life. These jellyfish are all astonishingly displayed in backlit kreisel tanks and exhibitions that change from shades of blue, purple, pink, green and much more! It provides the visitor an experience that makes it seem as though the Jellyfish are changing colour themselves.
Glide through the RayBay!
At this part of the aquarium, you'll have the chance to watch beautiful stingrays and other beautiful animals swim all around a large tank of water, which makes it look as though they are flying! But what's better than watching a stingray beautifully flying around the water tanks as they seemingly smile at you, touching them!
Touch a StingRay!
Wait don't leave yet! At the very end of your journey throughout the Aquarium, you will reach the Shoreline Gallery on the top floor. Up until now, you've been given the experience to see a variety of underwater animals that you most likely have not seen up until this moment! But what's better than seeing all these wonderful fish? Touching them! Yes, you get to not only see but touch a stingray that is located at the Shoreline Gallery. This will provide you with a more personal and sensational experience with the fish that you haven't had before!
The Gift Shop
Wait don't leave yet either! No, unfortunately, there aren't any more fish to touch, or even see. You've made it to the end! But before you leave, have a look around Ripley's Gift Shop in order to have a tangible memory of your first or maybe even second, third, or fourth time at Ripley's Aquarium! Whether it was your 1st or even 5th time, you'll want to remember this experience. And don't forget to visit again!
For more fun things to do in Toronto and the rest of Canada, keep up with our blog and visit our website.